How do you advertise your eBook collection? Check out the ways other libraries are doing it!:
OverDrive
wrote a great post about Sacramento Public Library's eBook advertisements. They created stickers for their books, announcing it is also available in eBook format.
They also made shelf talkers with QR Codes on the back to alert patrons. They even provided
examples any library can copy and modify
.
Overdrive also created their
own sticker and shelf talker templates
that you can modify to your library's URL.
ACRL
's blog highlighted a different kind of eBook shelf marker from Florida International University. This one is laminated and has a call number on the other side, discouraging users from bringing the cards home with them. Might be a GREAT idea for summer reading books?
Or, instead of laminating a shelf marker, you can do what
Brisbane Grammar Libraries
did and order these plastic holders which are magnetic on top so they sit directly on the shelf:
Barbara Plum
also shared a display she made for her school library, printing out pictures of eBook covers inside iPad frames. Very cool and easy to do!
But if you only have a bulletin board, why not put together a display there? Love this one from
Clear Falls Library
: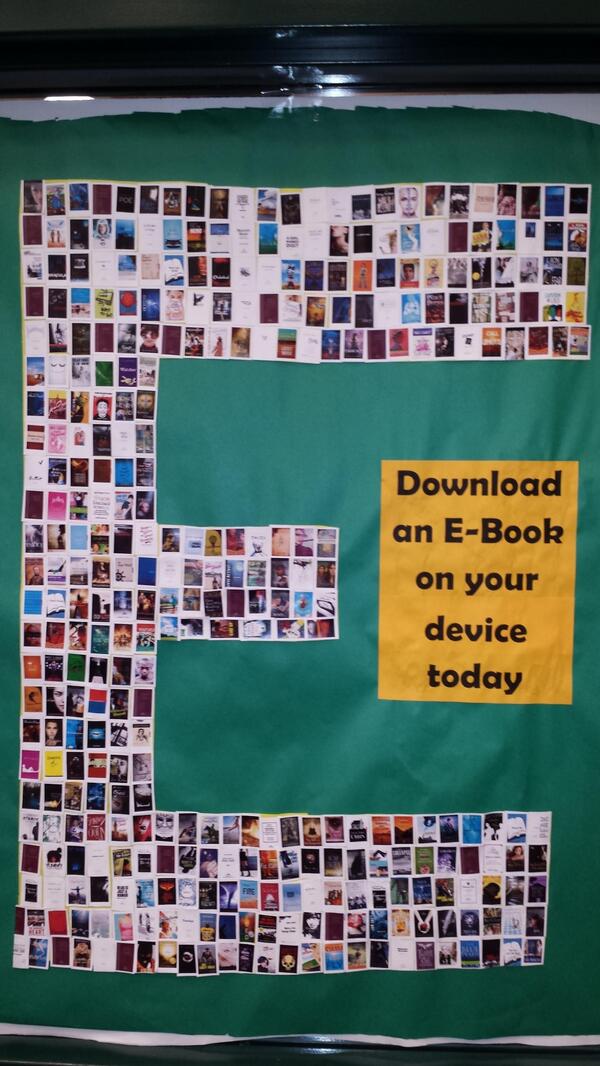 And don't forget that you can advertise your eBooks outside of the library.
Michael Stephens
took this picture at the local airport where Traverse Area District Library advertise their eBooks. I would love to see more of these around trains and bus stations, too.
Oletangy Liberty Middle School
actually has a kiosk right in their school library, encouraging students to check out the public library's collection of e-content: eBooks, music, audio books, and films. It is a touch screen and students only need a library card and the app to download up to 10 items at a time. This project cost them $1,850 since they already owned all of the content. (Not sure if they used the 3M kiosk pictured below, but I wanted to provide a visual.)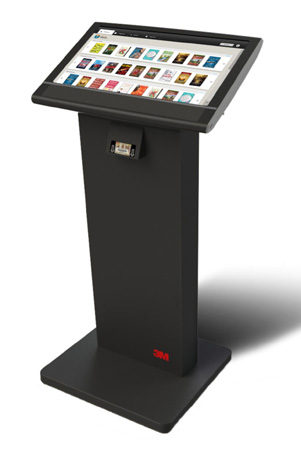 Happy eBook advertising in 5 minutes!