As the year comes to a close, we thought it might be a nice way to wrap things up by thinking of some library- or book-themed stories that gave us a warm and fuzzy feeling over the last year or so. (If this isn't enough fuzziness for you, be sure to check out last year's article, too!)
Photo by and link to AlbanyHerald.com
Sensory Friendly Santa Visits Library
Photo by and link to StreetSenseMedia.org
x
any parent or child knows, a visit to Santa can be both a magical and terrifying experience. Luckily for the residents of Leesburg, NY, there is a special Santa for kids with special needs who will be visiting the Oakland Library this year!
The Santa in question is actually the library's Technology Specialist at the Oakland Library, and has played Santa in the past. Because this is his first time having a program for special needs children, he did research on strategies interacting in a sensory-friendly way.
School Librarian Serves Up Brunch & Books
Christopher Stewart, school librarian at Bell School/Columbia Heights Education Center in Washington, D.C., sets aside one day a month to set up a table outside the school for an hour, and offers breakfast foods and books to passers-by. Though his aim is to bring attention to the homelessness problem in the city, the food and books he provide are for anyone, regardless of their personal situation.
Stewart says that he is aware that this won't fix the problem.

"In the grand scheme, [the brunch] is small. But it could brighten someone's day."

His end goal, the article states, is to create a cafe where people can pay what they can, that "empowers readership and has great food."
Ancient Roman Library Discovered in Cologne, Germany
Photo and link from washingtonpost.com
Workers in Cologne, Germany, have uncovered the ruins of the country's oldest known public library. The building was big enough to have housed 20,000 scrolls. The excavation that led to this discovery was set to be a parking lot, but that space has been downsized and a glass window installed so that visitors can take a peek into this landmark.
Dolly Parton's Imagination Library Goes International
International singing sensation Dolly Parton has long been an inspiration to her fans, but she has also been giving back to her community for years. The Imagination Library was founded in 1990 to help promote literacy in Tennessee, and has expanded over the years to become not only nationwide, but also in the United Kingdom and Australia. To date, they have given out over 112 million books!
NYPL Lends Interview Accessories
Photo and article from washingtonpost.com
Many libraries these days have a "library of things" collection, where you can borrow ukuleles, games, dolls, and more.
The Riverside branch of the New York Public Library has a new collection; they lend out handbags, neckties, briefcases, and other items that can be useful for job interviews, auditions, or any other event for which they need to dress up. Patrons have checked out ties for prom, bags for job searching, and more. The idea is the brainchild of Young Adult Librarian Michelle Lee, and was funded with a grant from the Innovation Project.
Hardcover the Library Turtle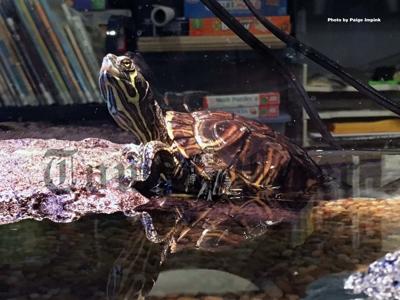 Photo and article link to Tewksbury Town Crier
The Tewksbury Public Library in Tewksbury, MA, recently adopted a turtle to live in the children's room of the library. He was named Hardcover, and has quickly become a favorite of staff and patrons, even having his own Twitter account. Hardcover's official title is Director of Charisma and Hospitality, and has his own official name tag to prove it.